An account of our visit with Paul Kincaid and Maureen Kincaid Speller in Folkstone, then leaving the UK. Written by Eric, with interjections, editing and photographs by Jean. The previous episode in this series is southwestern England and Reading. Larger versions of some of the photos in this chapter are available on our Bravenet photo storage site. Last updated 4 October 2001.
Thursday 10 May 2001
Around 11 we drove into Reading to look for envelopes in an office store. Finding the store was a challenge. (Jean: I didn't think so. I was navigating, and the store was right where I thought it would be, reached by the expected turnoff. Eric never believes me, but. Just because I make a mistake every 40 or 50 times, he thinks I'm unreliable. Hmph.)
Midday and we had completed the stationary search. We then drove to Folkestone to visit Paul Kincaid and Maureen Kincaid Speller. All the service areas were just a few miles after our turnoff from one motorway to another. The cast iron bladder comes into play again.
Jean took over driving when we finally located a service area most of the way there.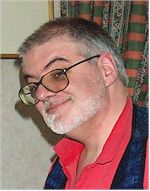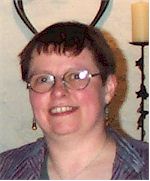 Maureen greeted us at the door, as did several cats. Other cats emerged later.
We talked about floods in the area. It doesn't look like it would be a problem, but Maureen showed us dips further down the street where there were problems.
Chicken for a meal, with lots of fending off cats, many of whom pressed their noses to the windows and stared in.
Friday 11 May 2001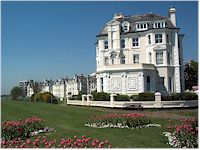 Clifftop walk with Jean around 10:45 until about 1 p.m., with good weather, but horizon is cloudy or hazy. There were a lot of hotel and holiday units along the road at the top of the cliff area. However there had been a lot of landslips along the slope down to the sea, and several paths down were closed. We found lots of bookshops, none of which had the book Jean was looking for. We decided we should have gone to Hay-on-Wye after all.
Paul turned out a marvelous salad and cold cuts lunch, with lots of really nice cheese as well. Afterwards we sat around reading books.
Dinner was at Paul and Maureen's favourite restaurant, which is also a Bed and Breakfast. It's the Tanner of Wingham, 44 High Street, Wingham, not too far from Canterbury, and run by Dawna and Richard Martin. This brick building dates from around 1620, although parts may be even earlier. It is being restored using the old techniques.
Saturday 12 May 2001
Jean stayed at the house, but I walked into Folkestone with Paul, who pointed out the narrow bricked Old High Street to me. I wandered down it through the town and the old town centre, past the port and fishing areas, and the amusement park, and finally emerged on the pebbled beach. It was a beautiful sunny day, with the sky clear almost to the horizon, and the locals often in T shirts and shorts. Eventually I got tired of walking and made my way back past the hotels and restaurants to the town centre. I couldn't resist checking some of the four or so bookshops in the centre of the shopping area. On the way back, some visitors stopped to ask me the way to another street. This seems a constant.
Later we both walked to The Mariner pub down by the harbour for lunch with Paul and Maureen. This pub served pretty good food, we thought.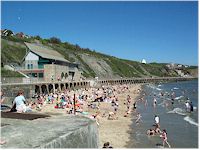 After lunch we wandered along the seafront to a small beach where people in swimming costumes were rapidly turning from pasty-white to lobster-red in the sun. We walked to the end of the concrete path, stood around chatting for awhile and looking at the ferry terminal in the distance, then wandered back along the beach. In the short time we'd been gone, the tide had come in quite away and people were rushing madly about picking up their belongings and heading for higher ground, something of a reverse-lemming effect. The small patch of remaining beach was getting extremely crowded.
We found yet another few bookshops on the way back through the town. I (just) resisted temptation, but Maureen yielded.
Read more of my book, since I seemed travelled out, while Jean was going through a George R R Martin fantasy at a great rate. She needed it read in time to return it to Steve and Guilia.
Paul and I figured we (and Jean) had covered all the outstanding GUFF business, although the precise tactics for getting additional publicity were still not too clear. I'd actually thought we might have to take more time for discussing it.
For dinner, Paul and Maureen cooked parsnips in lime and honey, pork chops with roast apple slices, etc, followed by Viennetta icecream. Wow.
Sunday 13 May 2001
Paul and Maureen and I walked across to the park and checked out the car boot fair. This also offered a fair range of books, but luckily most of the SF was already gone. Maureen did manage to find more plants for their backyard reconstruction.
After lunch, Jean drove the two of us to Reading, arriving before 4PM, somewhat earlier than we really expected. We were staying overnight at Steve and Guilia's, so as to get an easy run to the airport in the morning (easier than from Folkstone, anyway). We spent most of time that afternoon and evening reading, instead of updating our notes. Jean finished the GRR Martin book.
Monday 14 May 2001
We were up at five, and away by 5:45 for a horror drive to Heathrow. M4 was ok, but for the insane drivers and trucks that competed to block all lanes. The last 2 or 3 miles into Heathrow traffic was at a standstill, and the traffic directions were totally inadequate. Fortunately, the slow traffic gave us plenty of time to study the signs and debate (argue about) their meaning. Luckily Jean made the right decisions on which roads to take (unlike Eric) and he listened to her. Then we went through Budget car return real quick, after a bad moment with a key scratch discovered on the passenger side of the car. (The helpful checkin person wrote it down as pre-existing, so we wouldn't have to pay.)
After taking the shuttle bus to the correct terminal, we had our boarding passes before 8 a.m. for an 11 a.m. flight. Unfortunately, after sitting around awaiting an announcement until 10:30 or so, we got real suspicious about our flight to Chicago, so Eric minded the bags while Jean went to find a departure monitor that had more information than the singularly uninformative (and sometimes faulty) boarding gate ones.
She rushed back, having found that the flight had been cancelled. Off to the transit desk via a circuitous path and in great haste, where we joined the early part of what eventually became a gigantic queue. After about 30 minutes of the queue not changing much, except to get much larger, the airline began syphoning off the first and business class passengers, followed by the San Francisco and then the Chicago only passengers. We continued to wait in the queue.
Not too much later they began telling Premier Executive members they could go to the Red Carpet Club to get their flights changed. Since Jean had reached that level, we were headed off to the Red Carpet before 11:40, where we could at least sit down and have a snack or a drink while we waited to be called.
Jean eventually got tired of the delay and went back to the Red Carpet Club desk. She returned with new boarding passes for a Chicago flight at 1:55, which makes us almost three hours late into Chicago. We originally had around a five hour stopover, so we still theoretically have a reasonable chance of getting through to Seattle.
(Jean: The really bad news was that we were again in Economy class, and didn't have seats together. At least we both had aisle seats. When I got to mine, the man across the aisle asked if I'd mind switching with him because the two people next to my seat were his wife and child, and he wanted to sit with them. So I changed seats, to find myself next to a fidgety child. Oh, no! Fortunately the child was exhausted and fell asleep not long after takeoff, and slept for most of the flight. The food was surprisingly not awful, though nowhere near as good as in business class. At least the drinks are free on transAtlantic flights. I entertained myself by thinking of all the ways the trip could be worse. I eventually came up with quite an impressive list of horror things that did not happen, which made me much happier.)
Unfortunately the very full flight from Heathrow was an hour late taking off, and despite a tailwind, we had only an hour left when we reached Chicago. Naturally Customs were real slow for me, as I had ended up with the slowest queue. Jean shot through the US citizens line. Turned out that it didn't matter, as our flight to Seattle was also running very late. We finally changed to a later (but on time, thus earlier) flight, however our luggage came later, on our original flight. (Are you following this? There will be a quiz later.)
Thus we missed the 11 PM bus to Jean's mother's place. She phoned to say we'd be very late. We finally got the midnight bus, arriving around 1 AM (9 AM UK time, having been up all night at a very dull party).
Next item in the report will be a short account of Wiscon.