An account of our time in Scotland. Written by Eric, with interjections, editing and photographs by Jean. The previous section of this trip report, about our visit with the Skeltons, is in Part 5. Larger versions of some of the photos in this chapter are available on our Bravenet photo storage site. Last updated 2 October 2001.
Saturday 21 April 2001
We left the Skeltons' home around 10 a.m. Promptly got lost before getting away onto the motorway, having missed one instruction in the list I had tried to write down at the last minute. The major problem was the lack of road signs, making it almost impossible to recover from any initial error. If there were a next time, I'd add a GPS to the street maps so I could find where I really was when navigating. I'd also find a daylight-readable display. (Jean: I got us "found" again fairly quickly by studying the map on Eric's Psion - not easy, since I had to put my coat over my head to get a dark enough surround to be able to see the display.)
I did note on packing the car that our luggage exceeded the capacity of the boot. We also had yet another bag problem, as Jean's fairly new small wheeled bag had already split the stitching along one side.
The M60 and M6 were fine for travel, much like a US highway, though similarly boring. We were also lucky to find traffic very light considering the capacity of the road. However most of it was travelling significantly faster than us, and also apparently above the speed limits. There seemed a general lack of road speed signs, and even more so of signs advising when speeds had reverted to normal. I don't believe I saw any advisory speed signs on corners, which I something I expect on virtually every blind corner in Australia. There were some slow-down signs on some roads, but no indication why you should, nor what speed might be appropriate.
(Jean's comment: Eric was doing the driving, since my right leg was still giving me a lot of trouble. I usually do most of the driving in a car, since Eric dislikes driving more than I do. He's a good driver, but doesn't get a lot of practice, and found British driving conditions nerve-wracking. The few occasions that I drove, I suspect he found just as nerve-wracking, because I drive more like the Brits do.)
We stopped at each service centre along the M6, just to get an idea of the facilities available as well as to stretch our legs. We were unimpressed to find that at some service centres, the only toilets we could find were inside a Little Chef eatery that didn't want non-customers to use their facilities. I think I'm willing now to ignore Little Chef and try for Granada and Welcome Break service centres, which were much better designed and had more shops.
We were headed generally north towards Scotland, but we turned off the motorway a bit south of Kendall on the A590, to drive around the coast of the Lake District, through Newby Bridge, then via the A5092 and A595. If I recall correctly (always a suspect assumption), the road led up and over ridges, then down steeply to spots where rivers met the sea, often diverting inland for some distance around a long tidal bay, then rising steeply up again on the other side. Quite attractive, but rather winding. We turned aside around 2:15 p.m. to stop at Ravenglass, where they have a miniature railway and an old Roman bath. Fuel on half at less than 130 miles indicates that the tank wasn't really totally full when we picked the car up from Budget.
(Jean: Fuel prices were high, over twice the cost in Australia, but we had expected this. It was one reason we wanted the smallest rental car we could get - that and having a chance of getting it through the narrow lanes in towns... about which more later.)
While travelling along the coastal areas, we came across one wind turbine power generator, then much later 16 wind turbines, and further along another six wind turbines. These were tall single slim tower structures, with three bladed aircraft style propellers. While I am sure they kill off birds that hit the blades, these alternative power experiments should be keeping some of the environmentalists happy. They are unlikely to be happy about places like the BNFL sites, which had tours of (probably) the nuclear press office available. On the other hand, I happen to think that any country that aspires to a better life for its citizens will have to eventually go nuclear to remain a high-energy civilisation. Oil won't last forever, and coal is an even dirtier fuel.
Back on the motorway system at Carlisle, we made better time, although we never did spot a telephone and so didn't call Ian Sorensen. There is probably some algorithm by which locals find telephone booths (Clark Kent always managed). Or maybe they all have a mobile (cellular) phone. I'm increasingly attracted to the idea that we should equip GUFF winners with a SIM card or a cheap mobile for their trip.
Navigating to Ian's home was interesting. We overshot a little, and had to regenerate the map and get a new route. As usual the actual street didn't seem to have a name on it, and we had to ask a passerby to ensure we had the correct street.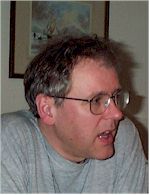 Given the state of Jean's back and leg, we didn't think it a good idea to use Ian's offered fold-out bed. One of the alternatives Ian had on offer was at a friend's place in Livingston, towards Edinburgh. I hadn't realised that Edinburgh was so close to Glasgow.
(Jean: We drove over, following Ian in his car. We'd explained that we didn't like to drive fast, so Ian kept his speed down to 70 mph, the limit. Everyone later made sure we knew what a concession that was, and after riding around a bit in Ian's car with him we could see what they meant. On the other hand, he knew where all the speed traps were, and pointed them out to us for reference when we were on our own.)
In the evening we sit around talking with Ian's friend Ruta after another excellent Brewers Fayre meal. It was interesting to see a modern housing estate, rather than the much older homes we had seen up till now. Unfortunately the roads nearby seemed expressly designed to have confusing names, all being the same except for the extension (X Street, X Road, X Place, X Close, X Circle...). Ian remarked that ordering a pizza to be delivered was not a good idea there.
Sunday 22 April 2001
A very lazy morning, which really suited Jean (still with back and leg problems) and me. We eventually headed off well after noon in Ian's car for Edinburgh and Linlithgow palace. There is a nearby pub, the Four Marys, where we planned lunch.
There was an interesting formation you drive past, that turned out to be a giant slag heap from a mine. I gather so many of these are being used for road base materials that this is being preserved.
Lilian Edwards phoned from a nearby supermarket parking area while we were coming from the Linlithgow Palace parking area, seeking further instructions on how to meet us. Rain didn't seem to have emptied the Four Marys, and we had a fair wait until a table was available. Alison Freebairn had to meet a midday deadline and was a little late arriving from near the Glasgow area. We all had a fine conversation over lunch, and this included some information for us on where to visit in Scotland.
Afterwards we all returned to Ruta's home, where Jean (map in hand) relentlessly quizzed the locals on how to make our way to various tourist destinations, and which destinations we should seek out.
Jean also solved an equation set as homework for Ruta's son, fueled by celery and brie, producing great excitement. (Jean: it was a trivial problem, but took me longer than it should have because the wine, accompanying the celery and brie, led me astray.) Ian says Jean is a sad bastard (he couldn't solve it either).
(Jean: Warning, cat story. Meanwhile one of Ruta's cats, both of which were billed as "afraid of people," kept sidling up to be noticed but running away if anyone paid it any attention. Eventually the cat climbed on the chair next to me and curled up with its back to me. After it had been there awhile, I touched it and it didn't run away. In fact it acted as if it hadn't noticed at all. So I petted it a bit and it did that little wiggle that cats do when they're pleased. This went on for quite awhile, with the cat never looking at me or overtly acknowledging my existence, but eventually it began to purr. It was as if it were saying, "Oh, I love to be petted, but I can't admit it because I'm afraid of people. If I don't notice this person is there, maybe I'm safe.")
Monday 23 April 2001
We left Livingston at around 9:15, managed to get onto the M8 going the wrong way, and had to turn around several miles later to make our real escape.
Up M9 past Stirling, then A84 past Callender. There was a hydro power station with a long drop from pipes down a mountainside. That looked neat. The A84 went beside the pretty Loch Lubnaig for a while. Somewhere in all that we passed through the tiny town of Barcaldine, the namesake of a town in outback Queensland, Australia we visited last year.
We joined the A85 at Lochearnhead and took that to Crianlarich. Then the A82 halfway down Loch Lomond towards Tarbet, following the top end of Loch Lomond south for awhile.
We turned west on the A83. At Arrochar Jean photographed some hotels reflected in Loch Long. We followed a ridge through part of the pretty Argyll Forest Park to Cairndow, and then around the northern end of Loch Fyne. Then to Inveraray. We continued south on the A83 down Loch Fyne.
At Furnace we ran into a funeral procession going to the Minad Forest Gardens (Carae Glen) nearby, our first bumper to bumper traffic for the trip. We continued until we reached Lochgilphead. We couldn't face continuing on down the coastline, so we took the A816 north.
We did make a detour at Kilninver to the coast to photograph The Bridge Over the Atlantic at Clachan between the mainland and the island of Seil. This was one of the items Ian had pointed out to us on the map.
We really wanted to collapse by then, however I couldn't find a place to park as we went through the port city of Oban a couple of times, mostly by different routes. Jean of course spotted lots of places, just after it was too late for me to change course. http://www.oban.org.uk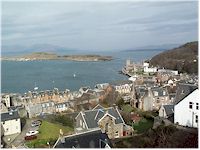 Stayed at Mrs Irene Harrower's Hazelwood Bed and Breakfast, just off the Dunalie Road (A85) to Fort William and Inverness, on Rowan Road, Oban, in the Argyll area. We had a large upstairs room with wonderful views of Oban Bay and indeed the entire town. We were so impressed we took some photos, despite the failing light.
Dinner at the Kings Knoll pub around 6:30. This is the place I totally failed to recognise as a Bed and Breakfast or as a pub despite driving past it three times. I stuck with steak and ale pie, and had yet another variation in the pastry that came with it, this time as a puff pastry slab. The food was impressive and the bar decor very Scottish and warlike indeed. It was a fine place to eat.
Tuesday 24 April 2001
A ferry that seemed too large for the area left the port at Oban (the name means Little Bay in Gaelic). Mrs Harrower told me the ferries depart every two hours or so to Mull. She also said divers are active in the area looking at the wrecks in the deep waters.
Ocean liners visit at times, taking advantage of the deep water, and they dwarf the ferry.
Good weather today, with even some sun early in the morning before we left, so we took more photos of the port. It was overcast during almost all our drive, but no rain, unlike the previous day.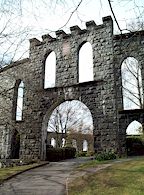 We visited John Stuart McCaig's Tower, and took photographs of both the tower and the town. James McCaig was an art critic, a philosophical essayist and a banker, and built this incomplete and empty tower in 1900. It certainly is a real landmark, and also totally pointless as far as I can tell.
Back into town to do food shopping for Jean (again at the co-op, although we inspected a Tesco also), so we didn't leave as early as our starting time would indicate.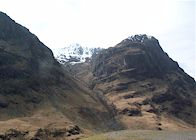 North up the coast on A85 across Loch Etive, until we came to the turnoff to Glencoe. We stopped at the new-looking Visitors Centre. We viewed a video about the massacre of 38 of the Macdonald clan at Glencoe in 1692 by troops commanded by Robert Campbell at the orders of Secretary of State Sir John Dalrymple. All these items make me realise over again that I should have read up more extensively, and researched more of the history. The sheer sides of the mountains around, and the bleak conditions there made me wonder that anyone would either settle there, or manage to escape into the hills in winter. The location is obviously normally popular with walkers and climbers, for the scenery is spectacular.
In Fort William we went shopping in the High Street for luggage straps for Jean's broken carryon bag.
Fort William was an impressive town, easy to visit, with free parking fairly close to the shops. We even found a Woolworth's, similar to the ones in Australia, although their range of goods wasn't as I expected. Lots of hiking goods shops, which is where we got luggage straps. We also saw one of the McTavish's Kitchens, which specialise in having a Scottish show during the evening meal. Probably not our thing at all, but doubtless convenient if you do like that style of place.
Several people had told us that Fort William was not at all interesting and not to waste our time there. Around this point we began to realise that our interests and our friends' interests may be rather different.
On the road to Malaig, although we didn't go far along the road. We stopped at a railway and canal lock, just to have lunch, around 2 p.m. Hydro power station visible back in the hills.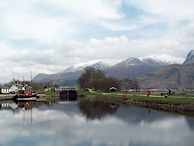 Views of Ben Nevis and the Nevis ranges, snow capped.
We came upon a striking monument to the World War II commandos, isolated in the countryside beside a road junction, with the very impressive backdrop of the mountains. It seems the commandos, formed during WWII, trained in these areas.
Chair lift, or more accurately a gondola lift to a chalet restaurant well up one of the mountain sides. Ben Nevis was three mountains along to the right. Must be bedlam during the skiing season.
A82 along Loch Lochy past Fort Augusta and along Loch Ness
Stayed near outskirts of Inverness at Park B&B, where a nice room with en-suite cost us £35. Naturally the bedside lamp on my side didn't work. I think I'm going to have to revert to my Australian habit of carrying my own reading lamp with me.
Dinner at Best Western Loch Ness Hotel in Inverness. Food was passable, service was good, but the amount of noise from the competing TV, other AV gear and the jukebox in the next room was far too great. Why don't venues hand out headphones like the airlines, so people can deafen themselves however they like without inflicting their noise on people who prefer silence or conversation? If there were a next time, I'd head for the center of town, but by then I didn't want to cope with traffic and parking problems.
Wednesday 25 April 2001
We were ready to leave Inverness a little earlier than usual today, despite overcast skies, as we had given up on locating a supermarket. We left town on the A9, and then took the A835 past Contin.
At Rogie Falls we came upon a fine nature walk.
Loch Garve was impressive, with the Garve railway and the township, and we even ran into sun at 10. Ben Wyvis and Little Wyvis were impressive snow topped peaks visible from that area of the road.
Loch Glascarnoch was very water carved at the bottom, which we could see beside the road thanks to a dam at one end, weir at the other.
We decided to take A832 and check the Wester Ross area.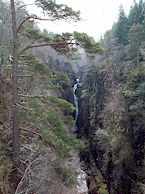 First we continued a half mile past the turnoff to see Corrieshalloch Gorge over the River Droma from a small viewing platform. Over the falls is a rather swinging suspension footbridge designed by Sir John Fowler, Forth rail bridge co-builder in 1867. This gives fine views of the narrow gorge, and is directly over the falls. The valley is formed by glacial melt waters.
We went along the edge of Little Loch Broom, and around Gruinard Bay past small townships.
Took a photo of the coast back towards Aultbea and Lake Ewe, then from Poolewe across more headland towards Gairloch. Much of the road past Gairloch was single lane, so some care was required when we encountered another car or a bus.
Gairloch information was very helpful, situated in a clean spot with good parking in nice village. Lighthouse at the end of headland.
Loch Maree, Shieldaig, Loch Kishorn.
One lane road for a while, reminds us far too much of home.
Joined A87 near Auchtertyre.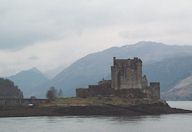 Stopped at Dornie Hall, near a really nice semi-ruined castle on A87. This made a wonderful photo opportunity. Eilean Donan is the castle, and it seems to have been restored and be open for tours, at a price.
Loch Duich and past Shiel Bridge.
Rain later in the day makes it less obvious how good the views might be.
Invergarry.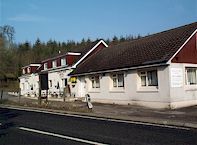 Aonach Mor Hotel (a pub) at Spean Bridge seemed pretty pricey at £45 for an inadequate sized room, so we asked for a lower rate and got £40. (Jean: I should have haggled to pay even less, since the room was small, the bed was uncomfortable (though I didn't realise that until too late; a quick bed test suggested it was okay), and the place was otherwise empty. I realised later that indicated how tired we both were.) The meals were likewise somewhat higher than in many other areas, and both rooms and bar area less than impressive. However, we didn't really want to continue on much further, and there was nothing wrong with anything provided. (Jean: the next morning when we set out, a short way down the road we found 2 or 3 B&Bs that we hadn't seen the night before. Probably cheaper and nicer than where we stayed.)
Next chapter, the rest of our visit to Scotland, including tours of castles.