An account of our visit to Pete and Anita Presford, and travels around northern Wales. Written by Eric and edited by Jean, including the addition of photos. Larger versions of some of the photos in this chapter are available on our Bravenet photo storage site. Last updated 2 October 2001. Previous episode in this series is the second section of our visit to Scotland.
Monday 30 April 2001
At the Penrith area we picked up the M6 and headed off as fast as we could, with little problem reaching the Buckley turnoff from the A55.
More interesting was trying to locate the correct road from this point, as instructions over the phone are not always as helpful upon rereading our notes. We got help from the local service station, who also seemed (like Pete) to understand directions via local pubs. No problem from then on.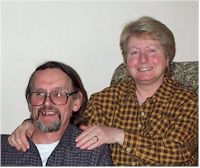 We chatted with Pete and Anita Presford (Anita briefly as she was looking after her autistic patients overnight). Pete produced a magnificent all home-made tuna, olive and artichoke pizza. I enthused about bread making machines for kneading the dough.
Pete talked about Italian visits, a country and people they both clearly enjoy greatly. Pete, an electrician, is a few years older than us, which is about what I expected considering how long ago we exchanged fanzines. Seems he hopes to retire soon probably, like us.
It has been a fair few years since I saw a fanzine from Pete, but he is in a garden apa and is into castle fanzines, but not conventions. I suspect visiting a castle with him would be a much more educational affair than our own visits.
Jean collected email that evening, and collapsed soon afterwards. Pete and I experimented with Sloe Gin, 1993 mead, grappa, and Australian Bundaberg rum, despite which we talked until 1:15 a.m.
Tuesday 1 May 2001
Awake at 6, almost functioning by 7, taking some notes on computer. Left around 10:40 for a day trip in wonderful weather, with blue skies that stayed with us for the entire day.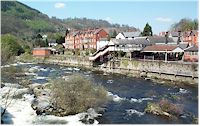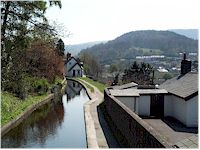 Our first stop was at Llangollen. We didn't check the Dr Who exhibit with costumes from the BBC series nor the model trains http://www.dapol.co.uk. We did look at the little historical museum, and at the canal and the narrowboat that takes people to the Telford aqueduct. The 19th Century engineer Telford seemed to have produced half the roads, bridges and canal works in the area. http://www.horsedrawnboats.co.uk. You can also take a train trip through the Dee Valley. The town is known internationally for the musical Eisteddfod held each year. http://www.international-eisteddfod.co.uk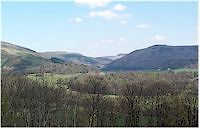 Stopped for scones and to buy handmade chocolates at the little continental style Riverside Chocolate House and Tea Room at the small village of Pentrefoelas, on the A5, six miles from Betws-Y-Coed in North Wales. You can actually watch the chocolates being created while you wait. The maker was a stout man wearing an outrageous red outfit, almost out of a fancy dress costume. Wonderful place to stop. http://www.riversidechocolates.co.uk
Slate mining was obviously a major industry deeper into north Wales. Not only were the stone fences slate, but it seemed everywhere there was a mountain of slate looming above the road, which passed through some major mining areas for slate.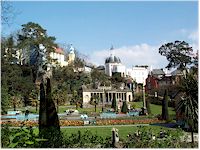 I was interested in touring Portmeirion, a resort town near Portmadog. It was in this area that Patrick McGoohan's 1960's cult TV show The Prisoner was filmed. The village was designed "to demonstrate how a naturally beautiful place could be developed without defiling it" and opened in Easter 1926 by Clough Williams-Ellis, but was not completed until 1972, and the hotel and cottages are a major tourist attraction. The family still run much of the tourist attractions there. It is an absolutely fascinating place. Click on the photo to see it larger.
We didn't get to Harlech on the way back, so military songs were out, but did pass Bangor, so I told Jean of that tune before we returned to the Presfords' home.
I failed to mention how nicely themed the Presford house was, with antique furniture and ornaments adorning the walls and ceilings and making a very consistent theme to the place. Something I can't manage due to an oversupply of books on every wall.
They also had some miniature paintings on their walls. I decided I should try to get a miniature painting from the Airlie market day for Pete and Anita.
Wednesday 2 May 2001
We set out from Buckley around 10 a.m. without much of a clear aim as to where we were stopping during the day. We did not have to reach Bristol until 6 p.m. Doug Bell had advised Jean the previous evening that he might not be home until that time.
We retraced our initial course of the previous day, through the countryside past Wrexham, and then onto the A5 past Oswestry towards Shrewsbury.
We took the A49 towards Hereford, stopping at Church Stretton for some sightseeing. I was interested to see an internet cafe and coffee shop tucked down a tiny alley. As the public parking was just opposite a small supermarket we did some shopping for bread rolls and fillings for lunch, and a few tins of ale for later when we rejoined fandom.
We entered Ludlow. This turned out to be a terrible mistake. Too crowded, badly signposted, and a generally impossible town. There seemed to be some market fair due for the next three days, so everything was crowded and confused, especially me. We left as rapidly as we could find our way out, with several wrong turns to confuse me.
Stopped at Leominster for sightseeing. There were strange back streets that finally lead us to a free parking area near the town square. Lots of interesting shops here, and we did check a bookshop but didn't see any fiction in it.
(Jean: Several people, including the Presfords, had encouraged us to stop at Hay-on-Wye, which has lots of bookshops; fans make pilgrimages there, apparently. We didn't go, as it sounded far too dangerous. We're not book collectors, don't have any place to put more books, and are reeling from the prices, given the state of the Australian dollar.)
We thought the A466 past Monmouth sounded interesting, as it wandered along the banks of the River Wye. We seemed to go in and out of Wales and England, as our path took us along the border. We also noted problems finding a toilet along this stretch, as every place that had one signposted either had it totally hidden, or it was closed and locked, or in the case of a service station, it seemed to have been abandoned.
Half way along the road we stopped at Tintern, a pretty little town with good (although not always apparent) parking, several pottery shops, several pubs, a coffee shop. Alas, I didn't find the type of pottery I was seeking, but it was an interesting place to stop. It even had public toilets, although these were not apparent until you actually had stopped.
We made a spectacle of ourselves here, sitting in the car and hiding our heads under my coat, while we tried to read the Psion 7 display and generate a path to Christina Lake's home. We did work it out eventually, but this would work a lot better if we could subsequently print out the directions with a portable printer.
Our path went through Cherstow and across the Severn towards Bristol. The traffic in Bristol was horrible, hardly moving at all, as well as being notable for incidents of mad moves by some motorists. We missed our turn, as it was one of many streets that were badly signposted, but recovered a block later and went in the back way. The little street planning software for the Psion has been really helpful on this trip, although a better daylight display would help a lot.
We had arrived a few minutes before 6PM, parked precariously in too small a space, and wondered what to do next. Doug Bell was already home, and opened the door so we could finally relax. (Christina Lake was away at a course and would get back the next day.)
First item was to cool a few of the beers I had brought, so we could sample them. Jean soon declared she was hungry, so we wandered down the street to the Goose pub, where the meals were at good prices and featured large helpings. Even their wine wasn't badly priced by the bottle.
We talked with Doug of universities and their similarities, jobs and travel plans. I was amazed to find Doug (and Christina) often brave the traffic in this area by bicycle to get to their respective work places. We collapsed for the night soon after we returned.
Next episode in this series is southwestern England.