More about our time in Scotland. Written by Eric, edited by Jean, including the addition of photos. The previous section of this trip report is about the first part of our travels in Scotland. Larger versions of some of the photos in this chapter are available on our Bravenet photo storage site. Last updated 2 October 2001.
Thursday 26 April 2001
A86 from Spean Bridge. Came upon a dam, made by The British Aluminium Company in 1930s, and took some photos. Probably Tulloch Station.
Through Loggan, Newtonmore, Kingussie. Then A9 towards Aviemore.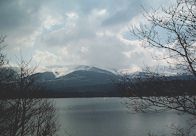 We diverted through Coylumbridge to Glen More Forest Park, which had nice views to the Cairngorm Mountains across the small Loch Morlich
A9 through Pass of Killieerankie past Perth, where we joined M9.
Side trip to Blair Athol and Athol Castle. The mine is small compared to the Blair Athol we know in Queensland, but we wanted to see the original once we saw the name. Interesting how many Australian (and American) place names we spotted in the UK. Not surprising, and many names were expected, but it was still fun to see places like Perth, Ayr, Penrith, Barcaldine (all place names in Australia), Kilmarnock (a town my parents used to live near in Virginia), and many others in such a different setting.
Complicated route over the Forth of Firth got us to Edinburgh, and thanks to good advice on how to proceed, and Jean's navigation, we reached Lilian Edward's neighbourhood before 4 p.m.
Didn't even have to go around the block a second time before we found one parking spot (on walking, we found one more closer). We left the car and don't intend to move it. The narrow streets and abrupt parking maneuvers make the crowded cities a horror for driving if you are not used to it.
Took a walk through the local area, although Jean's leg was bothering her so it had perforce to be a short walk. Located a nearby bar where we could sit and wait over a drink, and Jean could phone every now and then.
Lilian arrived slightly after 5 PM so we were able to unload most of the car. I went wine shopping with Lilian at Oddbins. Nice store, and a good opportunity to get Chilean and other wines I didn't know. (Jean: Their Australian wines were, alas, overpriced, compared to the prices we'd seen in other stores in the UK. We found a nice Wolf Blass Chardonnay at an acceptable price if bought by the half dozen, but the store only had three bottles. I asked about getting the three bottles at the half-dozen price, if we bought three more of something else, but the shop assistant said he wasn't authorised to do that. He also said that they didn't sell very many of that wine, which was why they didn't have many. Seems to me if the wine doesn't sell, they ought to clear it off the shelf by giving me the discount, but what do I know?)
Jean couldn't get past the proxy server at Lilian's workplace to get her e-mail. I didn't bother trying. I've pretty much given up on e-mail as a means of communicating while travelling. (Jean: this was the only time on the trip that I had any difficulty.)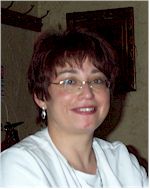 Lilian had kindly organised a rest evening and meal for us at her home, however we did have a visitor. Jane Carnall is a tech writer with a long correspondence with Jean. (Jean: Jane and I first "met" through IBM's internal e-mail system about 10 years ago. Then she kept popping up in other places and I realised she was also a fan.) All seemed to have a good time, talking at a great rate about various topics. Lilian and I talked a little about her visit to UTS where I formerly worked, and tried to identify people we had mutually known there, with Andrew Mowbray at Law being the only candidate found.
Not having seen any of the TV shows being mentioned, such as Buffy or Angel, Jean and I could contribute little to that side of things, but it didn't seem to matter much to the flow of conversation.
Friday 27 April 2001
Couldn't figure out the shower controls this morning, as the dial wouldn't turn and we didn't want to attempt to force it in case some interlock was stopping it moving. Somewhere, we thought, there must be a power switch for the instantaneous water heater, but it wasn't the obvious one like we had seen in other homes, and we couldn't locate any other likely power switches. We asked Lilian afterwards and she said it didn't work, which does rather explain why we couldn't solve it.
Eric went food shopping for Jean's lunch materials at the local 24 hour grocery, where as usual he couldn't identify brand names readily enough to find everything. Later he went for a long walk without Jean, as her leg is still giving trouble. Didn't locate a bookshop, nor an internet cafe, although I did look at a computer shop that was still open.
Lilian returned around 7, with Ian and Ruta turning up only minutes later. I remain amazed at anyone managing to find a parking space here. Talk over wine, but Jean says we shouldn't talk techie about the Internet.
Dinner a block or two away, at a nice restaurant opposite the post office, with Lilian and Ian and Ruta.
Back at Lilian's, we discussed hard drugs, and whether they could be safely taken if regulated and price controlled, so the problems of poor (or variable) quality and high cost were factored out. Ruta seemed to find it hard to accept the idea of the hypothetical, which makes me wonder whether Jeffrey Robinson's Hypotheticals are screened in the U.K.
Saturday 28 April 2001
Got up late. Eric read Lilian's chapter on Legal Control of Junk Email. Interesting perspective on the topic. He'd never thought of the law being particularly effective at controlling spam. He ended up reading most of Lilian's book from which this chapter came.
We walked through part of the city, looked at views of Edinburgh Castle (from a distance). A walk mostly through parks took us to the university. Very pretty walk, but cold. It was interesting to note an Australian pub in the student area, and it appeared part of a chain of similar ones.
Ian arrived and drove us all to see real castles. Through Musselburgh. Absolutely wonderful weather, clear blue skies, virtually no cloud. Locals acclaim it.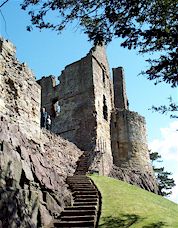 Dirleton Castle, on a small hill and with beautiful grounds, dates from 1100 as a wooden structure, with the original stone version by the de Vaux family in 1200. It was mostly in ruins, with the three towers at the south west corner surviving, along with part of the curtain wall.
We met Alison Freebairn there, and stopped for great sandwiches at strange restaurant place (actually a variety of pub) just near the castle.
Jean travelled with Alison to Tantallon, yet another castle.
As we drive through North Berwick we located an internet cafe, but didn't test it. They really are almost everywhere, but never when and where you most want them to be.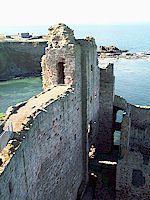 Tantallon Castle is out on a grassy headland, with a view across the water, and a deep grass-covered ditch surrounding most of it. There is some scaffolding at the front for repair work, but almost all the castle can be visited. It was built in the 1300s, and abandoned in 1651 after being damaged by Cromwell's army. The parts of the castle standing are impressively high, with spiral staircases to the top, and real dungeon like cells at the bottom, and a mostly intact great hall, or at least the walls.
Upon our return through North Berwick we stop for a walk along the beach. It seems remarkably like a beach anywhere, except for the much cooler weather than I am used to.
The much smaller and almost destroyed Hailes Castle was a fortified manor house in the 1200s, destroyed in the 1650s. We passed it on the way back, but didn't walk through it.
Sunday 29 April 2001
Got away from Edinburgh without problems by around 9:30. Took A71 (except when we lost it) towards the west coast through Strathaven. Many industrial areas, and generally uninteresting countryside until after we crossed the M74. (Jean: my usual technique of choosing a side road rather than the motorway, because the side road is usually more interesting, failed this time, so the extra time taken was mainly wasted.) At Stonehouse (?) we couldn't locate a toilet. Even the garage didn't have any. Iron bladder required to cross the country.
Things went better at the west coast, which seems more attuned to tourism. Bypassed Kilmarnock (Aside: Jean's parents used to live in Kilmarnock, Virginia) and went down A77 past Ayr towards Stranraer. After Maybole we turned off the A77, and went looking for a castle on A719, but on seeing the charges, changed our mind about visiting.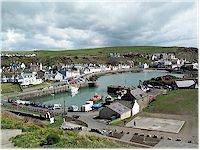 Lunch by seaside at Maidens. We continued down the coast through interesting scenery to Stranraer, and then on to Port Patrick, where Jean took photos of the harbour and the town and the rocky beach substitute. Beautiful sunny weather there. There were a weird set of steps with carvings about geological history and these gave a great view of everything.
Further along at Cairnryan, we saw several P&O ferries that travel to Ireland. Indeed, Jean claimed we could see Ireland from several points along the coast.
We backtracked to Stranraer, then east on the A75, passing the walls of Castle Kennedy, which we couldn't see. At Glen Luce we had a minor divergence through the village on account of a bad road sign, then down A747 past Port William along the coast. We couldn't help notice that almost everything was closed. Not just castles and monuments and stone circles, but even laybys and parking areas. Food and mouth precautions were widespread.
Then it started to rain, so we cut back from the coast towards Wigtown, Newton Stewart where we rejoined the A75, bypassed Dumfries and wandered across to Lockabie through heavier rain and deeper puddles. We joined the M74.
Stopped for night about 6 p.m. at Gretnal Green at a Days Inn under the Welcome Inn name on the motorway at one of the plastic service areas. This chain says they are now putting direct dial phones and modem connectors in each room, but ours didn't have them. http://www.daysinn.com
We had spotted another likely looking pub just before turning onto the M74, but our only experience of a room at a pub had soured us on experimenting without local advice. This is in some ways a real pity, as I'm sure we are missing much of the traditional character of U.K. travel by avoiding the pubs for stays and for lunch.
We had mixed dishes for dinner, a main for Jean and a varied starter for me, and traded pieces between us. It was still too much to eat, but what else was there to do in such a setting?
Monday 30 April 2001
No food at the Days Inn rest stop at Gretnal Green. At least, no small containers of milk, and orange juice seemingly overpriced at £1.59 for 500 ml. While a substantial breakfast was available, that wasn't what we wanted before a drive. We made some sandwiches instead, and ate more chocolate biscuits.
M74 south, then the A69 east until we could get onto the B6318 along the edge of the Northumberland National Park. This was the road that seemed to run along Hadrian's Wall.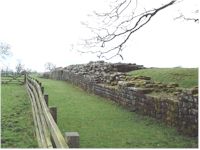 The quest for Hadrian's Wall soon revealed that much of it had been erased over time. There were patches every now and then, looking similar to ordinary stone fences until you could see the greater width.
Most of the tourist sites were closed, as we expected. However Chester's Fort was still open, and that provided a fine view of a large Roman fortified camp along the wall.
On heading towards Wales from the Hexham area we came upon Langley Castle, which was now functioning as a pub. It looked in great shape.
Some rain made driving more difficult, and the day less pleasant from this point. We passed through Alston.
A snow-covered pass at Hartside Height and the highest cafe in England (under 2000 feet) were mildly interesting breaks from some hill scenes.
Next chapter is a visit to Pete and Anita Presford and a drive around North Wales.