An account of our visit with Skel and Cas, and travels in the Peak District, Yorkshire Dales, and Lake District national parks. Written by Eric with interjections, editing and photographs by Jean. Larger versions of some of the photos in this chapter are available on our Bravenet photo storage site. Previous episode Paragon (Eastercon). Last updated 4 October 2001.
Monday 16 April 2001
Paul Skelton and Cas greeted us at the door in some considerable amazement. Everyone has to phone for directions, they said, after they get lost. I was encouraged by this evidence of the accuracy of Street Planner Millennium on my Psion, which was how we navigated through Stockport, once we got beyond the areas Bill Burns knew. It would have been a lot easier if more streets had real signs. Bill Burns did have to get directions to get out again, and I'm sure Skel's directions were better than those from the PDA.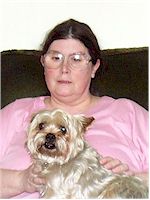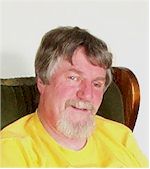 Cas had prepared wonderful cold cuts and salad for dinner for all of us. Bill and Mary stayed for that, and sat around and chatted before leaving for their destination. There was some disruption as the two Yorkshire terrorists ... I'll say that again, the two Yorkshire terriers competed for attention.
(Jean here. We started calling our trip the "old pharts' tour of the UK" because we planned to visit many of the mostly-gafiated fanzine fans we corresponded with years ago; often when we'd tell currently-active fans who we planned to visit, they would say, "We haven't seen them in ages! We didn't know they were still around." Skel and Cas are the first in this "old pharts" category, but others will follow.)
Paul and Cas are Manchester United fans, and were checking things using Teletext. The teletext seems used a lot by fans, and I keep wondering whether the equivalent has as much material of use to us in Australia. Of course, I'm not sure we are even in range of appropriate transmissions where we live, and we have never made getting a teletext equipped TV a priority. Indeed, I doubt we will replace the analog TV when TV in Australia goes digital in a few years.
Tuesday 17 April 2001
Before setting out for the day we went food shopping, including lots of wine, at ASDA, a giant supermarket that now seems owned by the US Walmart chain.
Our drive with Skel and Cas in the overcast conditions took us into the Peak District national park area. We were stopped by foot and mouth precautions on some roads, and had to drive over disinfectant mats fairly often. Cas was delighted to spot a crane, so Skel later helpfully pointed out a building crane. Lots and lots of dry stone walls all over the green hills. Lots of sheep, which given the TV reports back in Australia was a little surprising to me. I'd been expecting death and destruction and pyres of burning carcasses.
We totally failed to keep any decent notes on where we went today, and as we went into the same general area the next afternoon, we've probably combined them in the description. Not that it matters; we had a good time and saw interesting stuff. It would help in identifying photographs if Eric had kept better notes and Jean had marked our route on the map when we could still have some hope of remembering where we went.
Rain stopped play (by us) so we returned in the late afternoon. After two years in the tropics, I can't get used to the idea that it is still light at 7 p.m. so I consistently thought it earlier in the day than it really was.
Cas made us an enormous chicken dinner and (again) lots of wine, but we were enjoying ourselves even before the wine.
Cas liked opals, so Eric was able to give her a few small opal split badges.
Each side showed off photos of their last few trips. Eric promoted the idea of talking Mike and Susan Glicksohn into coming to our Relaxa.con or on a later trip to Australia with the Skeltons. We seemed to stay up very late talking. Well, Jean didn't. She was still having problems with her leg and back and spent a lot of time resting.
Wednesday 18 April 2001
Eric went for a walk with Skel and Cas as they took the two Yorkshire terrorists to the park. It was cold, despite sunshine for part of the walk.
We had to take Jean to a chiropractor, in the hope it would help her leg problem. Meanwhile the rest of us visited Cas's daughter Debra, and collected Jean after her appointment. Then we set off again into the Peak District.
We drove past many historic looking pubs under cloudy skies. Contrary to some impressions, we did not stop at all of them.
Some of the towns were Disley, Newtown, Furness Vale, Bridgemont, where some sunshine illuminated the countryside, Sparrowpit (in the High Peak), all with lots of dry stone walls and green green fields. Peak Forest. Wire fencing over some dry stone walls, with poles alternating on each side of the walls, so they were not dug into the field. No place to stop to take photos, alas.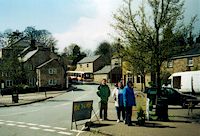 The small town of Eyam, just off the A823, has a wonderful informative museum about the Bubonic Plague of 1665. This amateur museum deservedly received the 1998/9 Museum of the Year Shoestring Award winner. The mural in the main room explains the Plague of London, then continues with tales of individual families in Eyam. This continues upstairs together with material on old medical treatments, and demographic material, plus the story of the Rectors Mompesson and Stanley. Like most such museums, there is also a small tourist shop. http://www.cressbrook.co.uk/eyam/museum
The Miner's Arms pub provided Best end of lamb, beef mushroom and ale pies, and beer.
We made a long search for Surprise View, near Hathersage, and eventually discovered it on the road to Sheffield. There was lots of discussing of maps and locations before we got there. Skel and Cas wanted to show it to other visitors, but they had found it when bicycling (years ago), and had not located it again by car.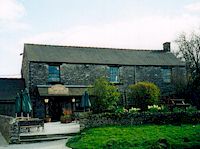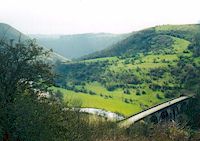 Later in the afternoon we visited Monsal Head, which had splendid views and a nice but full pub, for a half a pint. Around 4:30 we finally got some sunshine so I took more photos of the view and the viaduct. These were all locations that Skel and Cas had taken Mike Glicksohn on a previous visit.
Manchester lost that evening, so there was consternation in the household. I didn't really understand the rules, but thought there were some missed opportunities and some rough moves.
Thursday 19 April 2001
Two national parks were on the agenda today, the Lake District and the Yorkshire Dales.
After a relatively early start, Paul drove us for around 90 minutes to Bowness on Lake Windemere via M6, A590, A5074.
(Jean here. Cas had a printout from some computer mapping software, with directions to Bowness. I was following along on the map we'd brought. The road signs were a trifle ambiguous at one point, so a loud discussion raged - did we turn left at a critical intersection or continue straight ahead? Cas said we wanted the A5074, but thought we should continue straight ahead, following the signs to Windermere, as she and Paul recalled they went through that town on their way to Bowness on previous trips. I said that according to my map, they could go either way, but if they wanted to go via A5074, they had to turn right.
(Paul, driving, muttered, "What do you want me to do?" "Turn left!" I shouted. "Straight ahead!" yelled Cas. Eric interjected, "I've found that Jean's usually right when it comes to navigating, so it's not worth arguing with her." Paul turned left. Cas muttered. A few miles later, the turnoff to Bowness appeared, and we turned onto the A5074. The scenery was attractive and the traffic minimal. Everyone was happy.)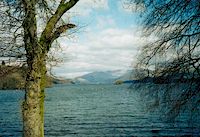 In Bowness, Cas hunted for and found a bear shop and bought an entire German bear called Otto to eat. Well actually it was for her collection. I hunted for chocolate shops, and saw far too many of them, but I didn't get any chocolate, due to Jean looking disapprovingly at me.
Cas managed to locate the home of her grandma, where she had spent time as a youngster, and we photographed Cas in front of it.
The scenery was very pleasant, the sort of thing I associate with the British pastoralist painters. It really does look like that.
Lunch at Lake View, with good but almost plastic appearing menus from the Brewers Fayre set. It had great real views, despite the decor. The pubs we checked in the town seemed overly expensive for their appearance inside, which was not to our liking.
Three Hercules transports made a low pass over the lake as we walked back to the car. Seems that air force pilots like the view also.
The view from Ambleside at the head of the lake was not as good, as you didn't have the high hills behind the lake. The town was larger than Bowness, and appeared far less tourist oriented.
Off to Keswick, which again was a much larger town. We had trouble locating the toilets, despite a very good tourist information centre in the middle of town, with good maps and other material available. They have a motor museum, and past the miniature golf, a Theatre near the lake we visited.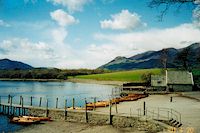 Derwent Water is the lake, which looked like the really nice scenes on the pencil boxes I remember from when I was a kid. I notice that the Cumberland Pencil Works and Museum existed nearby, and realised that as a child I did indeed have a pencil box with exactly that view. After some searching for a parking spot, a tourist centre, a map and a toilet, we finally got to the lake, and it was very much worth the trip. The only problem was it was cold when the sun wasn't out, which was a lot of the time.
A jet fighter made two passes over parts of the lake. Your defence pounds at work, I presume.
Around 4 we set out to return. Got rained on while on the way to the distant car park. Skel and Cas wanted to take a more scenic route home, with more of a selection of places for dinner, through the Yorkshire Dales. We returned to old Windemere via the A591, past even more snow dusted hills, then through scenic country areas. We went through the back streets of Kendal, after a little glitch in directions.
Five giant three bladed wind turbines at Lanbrake energy farm almost at the M6 were impressive, although probably almost futile.
Through Sedbergh, then Hawes. We saw a wonderful railway viaduct. Moorland was closed, with Do not leave the road signs, and disinfectant pads across the road.
Jean's leg problem got even worse and we had to stop so she could take pain pills. All this driving probably negated any good done by the chiropractor.
There were snow flurries falling on us on one of the mountain paths, with poor visibility. We did eventually get out of the snow, but during this trip we encountered every type of weather. We ran into sun again at 6:30 for example.
We stopped at Racehorses Hotel at Kettlewell for farm pie (lamb and vegs). Skel and Cas had stayed previously, and were intending to take Mike and Susan Glicksohn there in August. Nice spot.
8:30 on the road again, still some light, which always surprises those of us from the tropics. We didn't get back until 11 p.m., long after we had planned.
Friday 20 April 2001
Paul took us to the Budget Rent-a-car place on Hyde Road, where we collected a small black Ford Fiesta. Seemed a nice car, although we had to report to the attendant a small scratch on the left hand front door. Took us over an hour all told to collect it. We also discovered somewhat later that the radio cassette doesn't work because it lacks the code needed to start it (apparently the car's battery had gone flat at some point, causing the radio to reset, a precaution against disconnection and theft).
Eric was surprised at the number of dark coloured cars on the road. In Australia no-one gets a black car a second time, as they are too hot to use in the sun.
We didn't do much except do the laundry, sit around and talk or read for the rest of the day. Well, we did take the Yorkshire terrorists for a walk. Cas tried to convince Eric he needed more than just a marmalade sandwich for lunch, but he was full of her wonderful dinners. Lots of wine went down with the prawn salad for dinner, as we recall.
Next installment in Part 6, when we head off to Scotland in the rental car.