We had my mother down to Jean's place for our traditional Xmas turkey. We had planned to collect her from the train, but my new monitor was filling the back of Jean's car, and the forecast was for very hot weather. I phoned my mother to say I would drive up and collect her from home. To my surprise she accepted at once. This is a person who until her eightieth birthday insisted on walking the three miles to the shopping centre rather than get a taxi. I fear her health is no longer robust, to the point where even she is forced to admit it at times.
I wrote the above paragraph in early January. On Monday 13th January 1997 my mother suffered a cerebral hemorrhage, and died on Friday the 17th in Nepean Hospital without regaining consciousness. She was in her 83rd year, and had been born 9 August 1913.
Those who would rather not know the details could skip to the next item, or stop reading now. With minor exceptions such as Sell Out, and Crushing Blows, the entire issue relates to the one event.
Jean phoned on Monday morning to tell me that local fans Graham Batho and Sue Smith-Clark had been trying to contact me. They had seen someone being loaded in an ambulance at the bus stop at Faulconbridge, and thought it was my mother, but had been unable to pull over to check.
There was no reply from my mother's house when I phoned, but I knew she had intended to go shopping in Penrith on the Monday morning. She had always been more of a shopper than I am, visiting Penrith more in a fortnight than I do in a year. However as was often the case, I had seen her for lunch on Sunday, and she had seemed fine then.
A neighbour who visited on the Sunday afternoon told me later that she thought my mother's speech was a little slurred. It would not have surprised me to find that she had ignored any preliminary signs. It had happened before, with my mother denying any problem. And I admit to taking precisely the same attitude towards medical intervention myself; I haven't seen a doctor (except socially) in many years.
The garage next to the bus stop confirmed an ambulance had taken someone away, but they didn't know the details. The local general store was nearby, and they confirmed that the ambulance had been called from there, and that it was for my mother.
An intending passenger for the bus had discovered my mother slumped on the seat at the bus stop. She apparently had worked in the medical area before retiring, and took my mother's pulse, and immediately called an ambulance. None of these attending knew how to contact me, but they certainly did all the right things for my mother.
There seemed to only be an emergency number for the ambulance, no local number for their site in nearby Springwood, which was somewhat frustrating. I figured they would have gone to the large public hospital near Penrith, some 30 kilometres away.
Nepean Hospital quickly confirmed they had my mother, and put me on to a doctor in the emergency room. He told me she had either a cerebral hemorrhage or a stroke, and was on a respirator, that they were still doing tests. He also told me it was unlikely that she would recover.
After phoning Jean with the details, and trying to contact some of my mother's friends and neighbours, I took the train to Penrith. I couldn't recall ever visiting the hospital (I've only lived here 30 years after all), so I caught a taxi. Just as well, as it would have been at least a 40 minute walk.
My mother had been taken to surgery while I was travelling. The emergency room doctor saw me in a private waiting room, confirmed that it was a cerebral hemorrhage, and told me there was little hope. I got the impression that, had they known my mother was 83 years old, they would have restricted treatment to drugs rather than attempt surgery. Since she had been found in circumstances that showed she was living independently, they may have assumed she was somewhat younger.
Somewhat later I was shown to the Intensive Care waiting room, where I waited a seemingly endless time. Finally got in to see my mother late that afternoon. She was on a respirator, not breathing for herself, looking very small and fragile, and not showing any response to anything. The intensive care staff also didn't expect her to last long.
Jean collected me at the hospital, and we drove to my mother's place, collected her cat, and gave her neighbours the news. I phoned as many of her friends as I could identify, but there didn't seem to be any master list to which I could refer. I was to spend each evening I went to her place looking for names and contact details for her friends. Luckily, many of these people also spread the word.
I visited the hospital each day, sometimes twice a day, without any change. The people at work were (as always) very good about me taking off without notice. I did go into work for a few hours on the Wednesday, partly because it helped take my mind off the situation. Same on the Thursday and Friday.
An EEG machine didn't show any pattern consistent with recovery or any conscious brain activity. On Wednesday the respirator was removed, after the doctor consulted me. The nurses obviously expected the end to be soon. Didn't happen, and I finally went home. The oxygen feed was also gradually reduced over the next day until she was breathing normal air. Still no change. They moved her from the Intensive Care ward to a ward not equipped with respirators, but sharing other facilities with ICU. The nurses were very kind and thoughtful throughout. I guess not having any personal involvement with patients would help, but I don't think I would want to do their sort of job.
On one of the days the hospital administration suggested I take her belongings back home. She had what I thought was an excessive amount of cash in her bag, so the hospital had put that in their cashier's safe. They also asked me to sign some paperwork on the Wednesday, just two forms. Since my mother was a repatriation pensioner, there were no actual bills for me to see. In particular, the image often given in the media of impersonal bureaucratic forces sweeping aside compassion just did not seem the case. There was only the one brief signing of papers, days after treatment started.
I did find the waiting a strain. In most situations you are able to take some action (whether that is effective or not), but here you could only sit and wait.
On the Friday she was not obviously any worse than previously. Jean had loaned me her cellular phone for the week. After leaving the hospital I walked back to Penrith (about 40 minutes), and was nearly to the station when the nurse phoned with the news. I stopped at John Price and Son funeral director near the station, and signed the papers. I took a taxi back to the hospital to view the body. That wasn't something required, but I felt it was necessary for me at least. It seems strange how different a body is when life has left it. Although I had really come to terms with the situation over the five days, and already regarded myself as having lost her, it didn't really seem final until I saw the body.
I spent the evening, and that weekend, contacting as many of her friends, relatives and neighbours as I could, and wrote a bunch of letters setting out the funeral arrangements. I'd arranged that for the mid morning Thursday, to maximise the chance of letting more of her friends know. Although she had not been to church for many years, I'd also contacted a local minister. Jean dropped off the notes I'd prepared for him, and later I visited to talk with him about the ceremony.
The funeral arranged by John Price and Son at their chapel was relatively brief, with about thirty attending. I'd arranged it at the funeral home chapel, as that was very close to the railway station. I believed her friends would mostly not have cars, and would need easy access by public access, and that proved generally correct. One factor I hadn't considered was that some would be visiting the local hospital, and would need to take into account visiting hours.
After the funeral I'd arranged a table at a small cafe in the local mall a street away. About a dozen people came to this, so I was able to talk at greater length with some of them. I hadn't known who to expect, so it was good to have this chance to see my mother's friends, some perhaps for the last time. Although all said they wouldn't eat anything, when the cakes and pastries arrived, they were indeed eaten. I remember my mother needed to eat at regular times to help control her diabetes, so I was pleased no-one was left hungry. On the basis of my own feelings, I'd suggest the idea of a wake is a good one. Throw a party, and perhaps everyone will feel a little less sad.
The ashes will be interned at the small cemetary at Faulconbridge, near where she lived for the past 30 years. I was unable to have them close to an azalea, as I had originally wished, but I hope the present site appropriate. [Later note. This is at the Arbuste Gardens and Columbarium Walls, and is actually in the Terrace Garden at Faulconbridge. It is Native Row 6, Number 25, where there is a plinth with a plaque.]
My mother was living an independent life right up to the end. We had discussed nursing homes and the like. She would not have fared well in even the best run of them. She wouldn't have been able to keep a pet. Often, even a little help, like the community shopping bus, is enough to let a person continue to live at home. I am glad she managed to live the way she wished until the end, and hope it is the same with me.
Ella-Tinka
I had been able to contact a neighbour by phone from the hospital that first day, and asked her to see if she could get my mother's cat Ella-Tinka inside the house. Jean kindly drove to the hospital, and then we went up to my mother's house, and after a bid of a struggle collected the cat. It took a fair while for the cat to become reconciled to her new domicile.
Shortly after becoming settled in, Tinka managed to find her way onto the roof, without actually finding out how to get down again. A little later she learned how to get out the window, into a tree, and down. Due to the way the windows open, she was not able to get back in again, leading to meowing outside the window at night. She also knows how to jump off things that are too high for her, and then when she hurts her paws, she complains. Real Soon Now we will train her to use the cat door ... the same cat door that Minou resisted using for six months. Oh joy!
Jean and I had forgotten how energetic young cats can be. Tinka is a very disruptive influence on the house. [Added later. When we moved to an apartment, Tinka found a home with John and Diane Fox. John advised that Tinka died on 18 April 2005]
Clean Up
Jean and I keep homes in which a certain quantity of detritus is apparent, byproducts of our work and hobbies. Since my mother's home didn't have stacks of magazines and books cluttering rooms, I foolishly assumed things were generally in good order. And in one sense, they were. Most things were wrapped, labelled, filed, possibly even spindled or mutilated.
I knew my mother had an excess of food in the fridges, as I'd sometimes offered to help clean them out. I didn't realise that I'd be throwing out three 240 litre big bins of food that had passed its use-by date every garbage night for the next three weeks. I didn't even manage to empty the freezer compartments in the first week.
Jean and I took shoes to the charity bin. Something like ten large bags of shoes. Over thirty bags of clothes. There was an incredible quantity of dressmaking material, filling cupboard after cupboard. At least two car loads. Plastic bags, all neatly organised, to fill two giant boxes. Seals from bread bags, filling two four litre bottles. Three four litre ice cream containers full of soap. Cleaning supplies of indeterminate vintage. Thirty boxes of gift pack talcum powder, various brands and ages. Every Xmas card received for the past few decades.
There were old model appliances, still in their original boxes. Indeed, almost every appliance still had original boxes and manuals. Three sewing machines, two knitting machines. Cook books, natural history and gardening books. Historical society monographs. My school books from high school, my high school yearbook. A clockwork Hornby train set I didn't recall. Toys I did recall, filling an entire box. A clock I had as a kid. Indeed, about a dozen or so clocks in all.
After giving away or throwing out things for close to three months, we finally have my mother's house mostly down to furniture and crockery. I'm going to have a local auction place attempt to sell off what remains, if they think there is sufficient value in the house contents to make it worth their while. Some of the stuff that I think is junk might be otherwise; there was an old trunk, lined with newspapers ... from 1871. Who knows what warms the hearts of collectors - probably stuff I've already thrown away.
[Later note. Archers Auctioneers organised and arranged an auction of the residual material at the house on Saturday 10 May 1997. They got through a massive amount of material very quickly, visiting for a couple of days beforehand, at no cost to me. Indeed, they raised about $12,000 on stuff I would have thrown out, or paid to have taken away. It seems that many things I took for junk were actually collectables. I would now advise anyone in a similar estate situation to seek the help of an estate auctioneer. I was very impressed.]
I will be selling my mother's home at 6 Hillcrest Avenue, Faulconbridge, so if you have that in your address records, please change the address.
While emptying my mother's home, and comparing it with my own cluttered home, I couldn't help but realise where my own tendencies as an accumulator of kipple were leading me. I could see myself ending with mounds of kipple spread throughout storage facilities around the city, slowly decaying into utter rubbish, not unlike another collector I know. It seems unlikely I would actually lack comfortable living space because of the collection, as I'm not that far gone in my accumulating, but it could perhaps happen.
My mother accumulated things for thirty years. She must have found them of value or comfort. I couldn't see what there was in it of sufficient value to even try to sell it. I rather think anyone looking at my house might well come to the same conclusion. I no longer believe this situation acceptable.
I'm now emptying my house of the accumulated clutter of a lifetime. Underused consumer goods are going to my mother's house for the auction. Excess furniture is going. Old musical records, record player, and all that sort of stuff. Stacks of paper products. Over the next year, I'm culling my book and fanzine collections even more.
When I get things to the point where the floor no longer looks like a midden heap of history, I'll start thinking on hard decisions about what else I can get rid of.
[Later note. About a year after the above I moved to a small apartment, after having a heart attack and retiring. My possessions are now down to what will fit into a single room. I still have an excess of bookcases, books and magazines, but these are decreasing as I get rid of more stuff.]
(9 August 1913 - 17 January 1997)

An expanded and corrected version of material I provided to the minister for my mother's funeral. In particular, I added exact dates and genealogical details where I know them.
Edith Harper (my mother) was born at South Sydney Woman's Hospital, Newtown, on 9th August 1913.
In 1913, Canberra was named Capital City of Australia. Grand Central Station opened in New York, and the Panama Canal opened. Typhus vaccine is discovered. The Australian basic wage increased to eight shillings a week. The population of Australia was 4,893,741. Charlie Chaplin makes his film debut.
Her father, William George Harper, a storeman who worked for Taubmans from at least 1937 to 1942, was born in England. He died 5th November 1954 aged 73 at hospital and was buried at Rookwood. He married Bertrude Harper (grandmother) (formerly Bertrude Phillips, of Eveleigh, Sydney) on 6th March 1907, and resided since around 1913 at Reservoir Road, Blacktown, some 40 kilometres west of Sydney, in those days full of market gardens and bushland. In my extreme youth we did make a few visits to the family home at Blacktown. Apart from the cottage, there were a number of blocks of land in a bush setting, very unlike the inner city area I grew up in. There was a dirt race track on the land, and I believe it was used by my uncles for motorcycle racing. I have only the vaguest of memories of my grandfather (who lived only a few years past the death of my father), or even of my uncles.
For much of her childhood Edith lived in the Mascot and Zetland area. As a result, she had little contact with her older brother, Edward George Harper (who died 20 January 1987, and was married to Sybil) nor younger brother Gordon W Harper (who died around December 2007, and was married to Joyce Payne, who in 2008 was still living in Blacktown).
I believe my mother lived with Charlotte Wilkins (Wright), an older sister of her grandmother, Eliza Harper (Wright). I do not know the reason she was raised separate to the other two children.
I have a note of a George Wilkins. I have a memory of listening to the horse racing on the radio, with an older man.
She [my mother, Edith Lindsay] could remember bullock teams pulling wagons through the mud of Bourke Street. She recalled the Clancy brothers building a wooden aeroplane in their garage, and planning to fly it from the golf course. When she finally took a flight to England, she could hardly help but comment on the contrast between what she had seen as she grew up, and what existed then.
As with many of her generation, she remembered the Depression, and banks closing. She never did entirely trust banks again, although she was later to work briefly in one. I found an old Government Bank account of her father's from the 1930s in her papers, and remember her telling me of the days in which that bank closed. For most of this period she was a machinist, dressmaker and seamstress. She continued to make clothes for herself, and as presents, for much of her life.
During World War II, on 15th July 1944, she married a soldier, Bruce William Lindsay, at the Beckerham(?) Memorial Congregational Church at Mascot with Minister Sydney Samuel Walter Horner doing the marriage. The witnesses were M E Lindsay and R A Lindsay, and I assume these were Rob and Marjorie, brother and sister to Bruce Lindsay. There was another brother Ralph, who predeceased my father.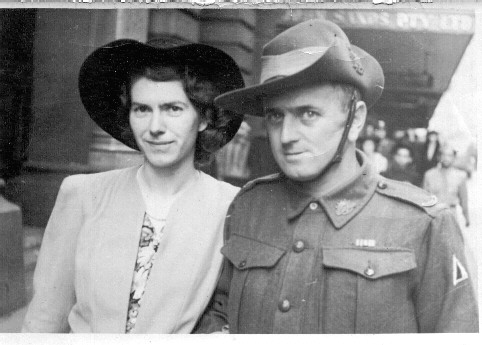 Bruce Lindsay (my father) was born on 2nd February 1913 at Berry Street, Mascot. His parents were William Garson Lindsay, born 29 June 1880, variously listed as an Engine Fitter of Balmain, or as a farmer, deceased prior to this marriage, and Eva Lizzie Whiting (grandmother), of Alexandria, and later Wiley Park I believe.
Bruce Lindsay's normal occupation was listed as a bus conductor. They lived at Zetland, a few miles from the centre of the city, near what was then the Nuffield factory. There was one child, me, born on 2nd February 1947. On 31st May 1952, Bruce Lindsay died of war related illness at Concord Repatriation Hospital. His ashes were placed in Niche 26 C Panel Service Wall, Eastern Suburbs Crematorium (Rookwood).
We lived at 406 Elizabeth Street, Zetland, however the street number was changed to 966 Elzabeth Street sometime between 1953 and 1957.
I seem to recall an older person living in the Zetland house, but can't recall a name. I am assuming it was George Wilkins.
I found a note of a George James Mace being cremated and the ashes held in Niche 66 JF at Rookwood Crematorium in April 1956. In Sept 1956 my mother was joint executor with a Samuel Craig of the estate of George James Mace, retired stonemason of Croydon. The estate of #2870 went to W.M, F.A, M.S. and L.E. Mace, and A.L. Bloom and G Chapman.
Edith worked in a variety of jobs in the Zetland area after her husband died. I recall being taken with her to work at a local bank, before I was old enough to attend school. As a result, I could use a typewriter (badly) before I could use a pencil.
She worked for the Rev. J. W. Spencer at Newtown Methodist Mission in King Street for many years, assisting in the day to day working of the Mission.
In those days (1953) the War Pension was #13-7-0 a fortnight, while in 1959 it was #19-6-0.
Edith sold the Zetland house for #3000, less #100 commission, to Marfleet and Weight Ltd on 14 January 1957. The site was subsequently used by businesses.
We moved from Zetland to 103 Hurstville Road, Hurstville Grove in 1959(?), into a house she had designed by architect H G Alexander of Camperdown. The contract price in June 1958 was #3700. A garage, costing #515, was added on 22/10/1964. The land had been owned for a fair while, a property survey from 15 Jan 1948 was done for my father B W Lindsay. I gather Edith always wanted to move to a more natural setting, outside the suburbs. She was assisted by the Methodist Property Trust in obtaining a mortgage (probably from Mercantile Mutual) for a total of #2200 at 23 december 1957. Interest was 8% reducible to 7% if paid prior to the due date of 31 March 1961. Quarterly installments of #22. She mentioned at times the problems women had in obtaining a bank loan in those days. This house was sold to Crooks and Anor for either #6500 or #5625 on 1 Feb 1966, with final proceeds #5599-18-9. There was a bridging mortgage with the Commonwealth Bank, Hurstville. My grandmother lived with us from time to time at that house, using the large bedroom at the front of the house.
In 1965 Edith had her final home built at 6 Hillcrest Avenue, Faulconbridge, on land bought from Marshall for #425 on 12 February 1965. The builders were George Cochrane and S Grier, of 2 Hilda Street, Blaxland. The house was largely to her own design. The contract price was #4884 with extras bringing it to #5020-1-6. It was probably completed at the end of January 1966. There was a War Service Home Loan, not over $6000 in November 1965, for 50 years with a monthly payment of $22.16. Mortgage was discharged around 1983.
She worked for several years in the 1970's with the tax office.
She was particularly proud of managing to grow a variety of native plants, including a large number of native orchids, although in her later life the yard proved too much for her to manage.
She was a member of the Springwood Historical Society, and of the Springwood Music Society. In her later years she was more reluctant to attend evening events, as she found a normal day of activity more and more tiring, especially as she never really grew out of the habit of arising with the sun.
Edith rarely saw doctors, however when she was diagnosed as diabetic, nearly a decade ago, she finally was persuaded to carefully follow their directions on diet and exercise. This produced such an immediate improvement in her health that she was able to attend more events for several years.
Edith often mentioned how much she enjoyed using the weekly Blue Mountains Community Transport bus for shopping and other activities. She often claimed it was what made it possible for people such as herself to stay independent in their own home.
A few years ago she was somehow persuaded to take care of a young, very scared black cat she named Ela-Tinka. The cat grew considerably larger under her care, and indeed was probably more than a little overactive for someone in her 80's. She joined the NSW Animal Welfare League to ensure that the cat was well cared for when she could no longer do so. The cat is now being looked after by Jean and I.
[Added later. When we moved to an apartment, Tinka found a home with John and Diane Fox. John advised that Tinka died on 18 April 2005.]
My paternal grandfather was William Garson Lindsay, an engine fitter of Balmain, Sydney. He was born 6 April 1912. When he was 28 he married. I believe he died before 1944.
My paternal grandmother was Eva Lizzie Whiting, then 27 years old, of Alexandria, Sydney.
Tracking back through various papers I found my maternal grandfather William George Harper (sometimes listed as George William Harper) was born on 29th June, 1880 in what appears to be H???ford, Sprowston, Norfolk, England to William Harper, a bricklayer, and Eliza Harper, formerly Wright, of Horstead, Norfolk, UK. He died on 5 November 1954 at Wentworthville, and his occupation was listed as retired storeman.
William George Harper and his wife Bertrude Phillips married on 6 March 1907, and lived at Reservoir Road, Blacktown for most of their life, from about 1912. Their children were Edward George Harper (no issue, I believe), Edith Lindsay (nee Harper) and Gordon W Harper (no issue, I believe).
My maternal grandmother was Bertrude Phillips, born 26 August 1880 in Sydney, who lived at Reservoir Road, Blacktown from around 1912. Her parents were John Phillips and Emily Jordon.
Eliza Wright, mother of William George Harper, appears to have been one of 12 children in her family.
The parents of Eliza Wright were George Wright, a farm labourer and Elizabeth Wright, formerly Abel, of Horstead. The mother made her mark, rather than signing the birth certificate. They had 12 children, listed below.
An older sister, Charlotte Wright, was born 10th March 1860 in Horstead, Sprowston, Norfolk.
Charlotte was baptised on 22nd June 1862. On 26th June 1880, Charlotte Wright married George Wilkins, a illiterate labourer of North Walshaur, Norfolk. The marriage certificate lists William Wilkins as the father of George Wilkins, and lists George Wright as the father of Charlotte Wright. The witnesses were listed as Thomas Wilkins (also illiterate) and Lydia Wright.
Charlotte must have moved to Australia about three years after her marriage. She died of pneumonia on 28th May 1948, age 88, at 406 Elizabeth Street, Zetland, in the house where my parents lived and where I grew up. The funeral was 31 May, at Eastern Suburbs Crematorium. There are a number of errors in the death certificate. Her mother is listed as Martha Able, where I believe it should be Elizabeth Abel. The funeral notice says loved aunt of Charles and George Harper, and Edith Lindsay.
No children are listed on the death certificate, however the information on that was provided by my father, who may not have known. I was too young to remember Charlotte, however I do recall an old man in the house.
Charlotte's husband, George Arthur Wilkins, was born on 3rd November 1859 at Whitehorse Common, North Walsham, to William Wilkins, an agricultural labourer, and Charlotte Wilkins, formerly Turner. I found a receipt listing George Wilkins, dated Oct 22, 1917, mentioning Grave 1236B in the Independent Cemetary, Rookwood, and payments for turfing grave and headstone permission. However I also found a funeral notice for a George Arthur Wilkins (no date) but from context sometime after 1946. I have to wonder whether it was in the early 1950's.
I also know of a sister to Eliza and Charlotte, Jane Wright, born 21st May 1867 in Horstead. She married Charles Jiggins. [Added later. I found a letter dated from 1989 from her granddaughter Mrs Dorothy E Coker in my mother's effects, and in a letter dated 1997 Mrs Coker adds that Charles Jiggins and Jane Wright had three children. Daisy Helen Jiggers, born 3 May 1893, died 16 Oct 1978, not married. Ivy Kathleen Jiggers, born 8 May 1905, married Frank William Findlay 21 August 1930, and died in childbirth 6 April 1932. The middle child was Walter Charles Jiggins, born 14 March 1895, died 26 August 1973. He married Bertha Harriet Saxton on 27 July 1923 at Gosphen Hall, Coleman St, Southend. Two children. Rita Marion Jiggins born 2 July 1929, died 13 April 1978. Rita married 19 Sept 1953 to James Arthur Pollard, and had two daughters Joanne and Elisabeth. Joanne married and had daughters Jennifer and Michael. Elisabeth married and had boys Luke and Daniel. The second daughter of Walter Charles Jiggins and Bertha Harriet Saxton was my correspondent Dorothy Eunice Jiggins, born 11 March 1933, and married 14 June 1958 to Ronald John Coker. Dorothy Coker has three sons, Peter, Timothy and David. ]
[Added later. On 20 May 2005 I received an email from a second cousin, Daphne Wiles. Daphne provided much additional family information.
[Now, I guess you are wondering where I fit into the scheme of things. Well, your grandfather, William George Harper and my grandfather, Charles Harper are brothers.
[I am the eldest daughter of Charles' youngest child, Violet. I was born on 26 July 1937, the eldest of four girls. My mother, who is still alive at 97, knew your Mum and your uncles and I recall visiting your grandparents at Blacktown round about 1949 and meeting your uncles then. From time to time when I drive past the property in Reservoir Road I wonder why it has never been developed like the surrounding area.]
[Added later, following additional email on 20 June 2005 I have obtained a death certificate for an 18 year old boy, Arthur Wilkins in 1903 buried at Independent Cemetery Rookwood who I believe is the son of George and Charlotte Wilkins. Like you state, all the "family lore" I have ever heard was that they had no children but this certificate plus the receipt you have from Rookwood Independent Cemetery make me very curious. ... The minister who officiated at the funeral was John Beckenham, the same name you cite for the church where your parents married.]
[On 15 August 2005 Daphne sent additional material. Having looked over your notes I decided I would try to find the family born to George and Elizabeth Wright, parents of Charlotte and Eliza. Well, your memory was correct, there were 12 siblings!
They are in order of birth: Harriet (b. 1851), Eliza Elizabeth (our great grandmother, b. 1853), Mary Ann (b. 1855), Elizabeth (b. 1857), James (b. 1858), Charlotte (b. 1860 who married George Wilkins and came to Australia), George (b. 1862), Walter (b. 1864), Lydia Ann (b. 1865), Jane (b. 1868), Edith (b. 1870) and Wilfred (b. 1872). All were born in Horstead, Norfolk, England.
At this stage I have not followed up on finding how many married nor have I found the marriage or the deaths of the parents, George was born about 1824 and Elizabeth about 1831-32. It would be much simpler if the names were a little less common. Anyway, I'll keep looking I am sure something will turn up.
At the end of this month I am going to meet up with Hilma Savage (nee Ojala) who is our 1st cousin once removed. She is very interested to see the family tree. Her mother was Lily Harper, our grandfathers' sister.]
Crushing Blows
To expand on the brief mention last issue, in late December (middle of the Australian summer) a freak violent hailstorm smashed through the Faulconbridge area. 13 of my 15 skylight tiles were broken, as were the skylight diffusers. Some concrete tiles broke, and the recently redone ridge caps on the roof were also damaged. I had minor flooding, which in the kitchen and bathroom required little more than cleaning up. Unfortunately in the back room I lost some fanzines, however the computer there didn't get much water on it.
My wooden balcony at the back was damaged beyond repair, with the timbers splintered by hail. My shed was damaged, but it had previously had a tree fall on it, so the extra damage wasn't worth worrying about. I appear to have lost a lot of the garden, including many plants that I've had a decade or more. Our trees are evergreens, and don't normally end up stripped of their leaves.
Local newspaper reports next week indicated many homes damaged, with home extensions and part of the roof of the local high school crushed by the weight of ice. I mean, ice! In December? In Australia. Normally the only ice here is in my drink, and that is usually melting too fast!
Due to the heavy ... social season ... around Xmas, I didn't hear of the storm when it happened. I didn't discover the damage until I returned home (long after midnight, and not precisely sober) on Friday two days after it happened, and discovered my floor coverings were pretending to be a swamp. Dragging them downstairs and outside was not the most pleasant prospect at that hour. Jean kindly came up on Saturday and helped me clean up. After the house was slightly less untidy, we looked at the yard, covered in leaves. Over 40 garbage bags of leaves were collected from my small yard, enough to completely fill a VW van. And there were still leaves all over, including inside the house, when the weekend ended.
I had absolutely no luck in phoning any skylight, roofing, tiling or general repair people all Saturday. Phones went unanswered, mobiles were switched off. I thought my plastic and duct tape patches would be severely tested over the next week, when at least some rain was forecast. Even the "24 hour" insurance number didn't open until nearly 9 a.m. It seemed everyone who did any sort of repairs was already fully booked.
On Sunday I wandered over to the home of the builder who had repaired my roof and rebuilt my front balcony previously. He and his helper were drinking homebrew beer on the front verandah, and regaled me with tales of damage around the district. They came over on the Sunday afternoon and put up tarps, and gave me a quote on repairs. At least I didn't get any more damage when it rained.
Jean kindly drove up to my place to meet the insurance assessor one afternoon while I was at work. It is at times like this that I do actually somewhat regret not owning a car. During the week I managed to get some substitutes for the skylight tiles delivered. They were not nearly as well made as the originals, but there was no chance of getting the correct ones for weeks. On the Sunday before Xmas and on Boxing Day, the builder came over and completed repairs, or I'd still have three rooms open to the sky. Necessary repairs so far have cost me $2000, but are mostly complete. The insurance eventually sent me some money to cover it, and didn't complain about the bill.
During repairs, the vibration from demolishing the balcony encouraged shelves to leap from the bookcase, so I had an eight metre long bookcase with 2400 scifi books self destruct in front of me. I usually have a few books on the floor, but this was really ridiculous. I nearly got pulped. Jean had said she thought the bookcase was looming over her more than usual, and I thought she was imagining it. She will never let me live that down.